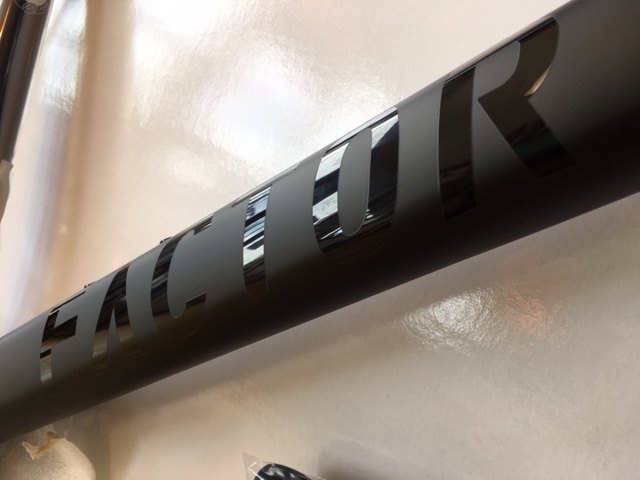 Factor O2 Disc: Yes, Yes, & Yes!
How do you lose weight on a bike? Don't say "Well, I could lose a few pounds myself!"[insert: laugh at own overused and terrible joke here].
You can definitely shave a few grams by upgrading to a ti bolt kit throughout the cockpit at roughly a $90-120 cost and shave ~30g. You could buy a nicer cassette for $250+ and save 100g! How about… a new carbon handlebar? It would weigh about 80 grams less and be somewhere in the $200-400 range.
Let's do the math.
Weight of bike (X) – 30g – 100g – 80g = X – ~210g
Cost of Bike (C) + $90 + $250 + 200 = C + $540
---
This math just does not add up and the cost per gram ratio is too high. This was the story for one customer who had a Moots Vamoots RSL Disc. It is currently 17. X lbs and he was looking for ways to shave the weight down to 16 and some change. The pricing and sourcing of parts was A) too expensive, and B) hard to source. My biggest fear, too, was that if/when anything wore out, broke, etc… and the part was hard to source, we probably couldn't expect any luck with replacements. All of this considered, a different route was chosen. New bike day was a month away – a ridiculously light, durable, and versatile road bike.
Hello Factor O2 Disc!
What exactly do you get with any Factor frameset? Well, added up, you get roughly $1,200 in extra balleur goodies.
Integrated handlebar & stem combo in any length and width
Seatpost in either zero-offset or 15mm setback
Ceramic Speed bottom bracket
Ceramic Speed Headset
Arione carbon railed saddle
Lightweight thru-axles, extra hangers, bb adaptors, bar tape. Need I say more?
We planned it all out on paper before we even got started on this build. 14.5lbs was our goal for the whole bike without pedals.
Indigenous Wheel Co 36mm deep / 21mm internal hoops laced to DT-Swiss 180 centerlock hubs
Shimano Dura-Ace 9170 Electronic Di2 group
THM Clavicula cranks with Praxis chainrings
Meld Solutions custom carbon saddle (136g)
Schmolke carbon seatpost (88g)
Everything was going to be built for daily riding, with a few unique additions like the gucci seatpost and cranks.
The build was fairly straightforward. There were no surprises in how to route the hydraulic brake housing, and no hiccups in measuring out the length of each e-tube. As you can see below, I had a very spot-on method to calcu-malate what length I needed for each e-tube.
This season, apparently, black is the new black. And this black has A LOT of black. Matte black frame with gloss black decals. The wheels, also matte black with gloss black decals. For the final touch, we knew there was only one thing to add to make it stand out, while still keeping that reserved look. GOLD!
Far and Near gold chainring bolts
Kogel ceramic pulleys with gold dust caps
Gold KMC 11sl Chain
Trucker Co. gold tubeless valves
Custom carbon Meld Solutions saddle with gold embossing
This was just enough *pop* to make this build lust worthy but still retain its subtlety.
The final build came out to be 15.01 lbs with pedals, cages, and integrated computer mount. Not bad for a bike will surely out-sprint, undercut, and outperform most any bike on the road.
This build has been a highlight build for me. There was a lot of conversation with this customer to spec out every part (down to the gram) to get the most performance and durability out of this bike. We nailed this build and I am happy to see it go out on the road. It'll surely cause bike lust and bike envy, but most importantly, it will make the rider happy!