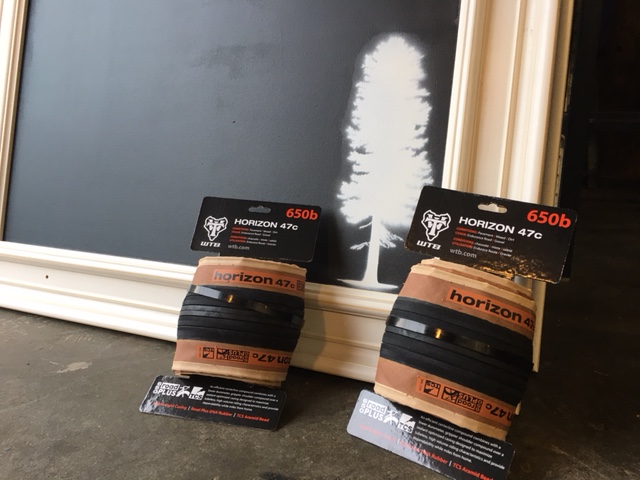 Stupid Big Tires
I had an old friend (my old boss at Raleigh) reach out a few weeks back about a wheelset. He's been adventure riding on his Giant TCX disc 'cross bike lately, and he came up with a great route that started and ended in Kent, and would take him though Tiger Mountain climbs and fire road descents.
He's been on his stock 700c wheels, but felt that they were getting abused with the dainty tires he was using. He wanted to experiment with a 650b wheelset option. The frame already had ample clearance, and the added volume would make his ride more comfortable.
We opted for the Build 6: Clydesdale Tubeless Ready Wheelset, but in a 650b rim size. The build turned out flawlessly and the overall weight was ~1,565g with 28 spokes fr. & rr.
The result was this:
Dave had a great ride on them and he wrote me a few days later with this story:
"I had planned to ride up to Tiger Mountain, but on the way out I ran into the Rapha Sunday group ride out of downtown Seattle, which was led by Terry Buchanan. Normally, I kind of snicker at Rapha roadies, but they were headed in the same direction and I figured I'd suck wheels for a few minutes. Of course, my wide tires drew a few double-takes from the roadie crew, but after taking a few pulls, no one could find issue with my riding. I ended up riding with the group all the way through Maple Valley and into Black Diamond, and finally pulled off near Taylor Mountain State Forest.
Then it got fun. I let a few lbs out of the tires and started up the gravel
road. The tires are fine- not ideal for rough roads, but way better than my old 28c tires. Since I had been in a 22mph pace line just a few minutes prior, I was very happy. Continued all the way over Tiger and down into Issaquah (passed a naked hiker) and the tires never let me down."
I'm happy this was an experiment gone right. The 'cross bike can be raced or just ridden on weekends year 'round, on or off the road. It's just as light with this setup as it is with the stock 700c wheelset, and most importantly, it looks good.